This year was a great year for movies.
Narrowing them down to a list of the Top Ten proved quite challenging. There were so many great films that they bumped many of my favorites – including The Avengers, The Dark Knight Rises, and 21 Jump Street – off the list.

Not all of them are as popular as some of my favorites, but they were far more exciting, surprising, or accomplished.
Now, once again, I haven't seen every film that's come out this year (only 50); it's simply impossible to see every film.

Last year, I had yet to see Melancholia at the time of posting my Best of the Year list and that film ended up being my #1 afterwards.

There is the possibility of that situation repeating this year, since I have yet to see the one film that many critics agree is the best film of the year: Zero Dark Thirty.

That film has only opened in five theaters nationwide until January 11.
Other films of note I've missed so far include: Amour, Bully, Frankenweenie, The Imposter, The Master, Ted, and This is Not a Film.
But let us take a moment to look at some trends of the year 2012.
Well, 3D was furthered once again by such films as Prometheus and Life of Pi. The conversion from 2D was proven to be, by all accounts, occasionally worthwhile with such re-releases as Titanic, Finding Nemo, and Monsters Inc.

But 3D was still wasted on a slew of others too many to name.
The superhero genre was mostly a big critical and financial success with the trilogy-concluding The Dark Knight Rises, the found-footage sleeper hit Chronicle, and the Hulk-sized sensation that was The Avengers.

Even The Amazing Spider-Man, a middling re-tread, was a financial success.
Lastly, this was a year full of promising comedies that fell short of delivering expectations: Wanderlust, from the creators of Wet Hot American Summer; Friends with Kids, by Kissing Jessica Stein's Jessica Westfeldt; the Duplass Brothers' Jeff, Who Lives at Home; The Five-Year Engagement from the creative team behind Forgetting Sarah Marshall; and Lynn Shelton's Your Sister's Sister all underwhelmed.

Only Ted and 21 Jump Street came out on top.
This was also not a very good year for film scores. Only Beasts of the Southern Wild, The Avengers, Prometheus, Django Unchained, and The Dark Knight Rises featured any compositions that stood out or had staying power long after the credits rolled.
And who were the stand-out stars of the year? Channing Tatum finally won over audiences and critics with his performances in Haywire, 21 Jump Street, and Magic Mike. Jennifer Lawrence had yet another big year with the hugely popular The Hunger Gamesand earned critical raves as a widow in Silver Linings Playbook. Emily Blunt starred in no less than four films this year: The Five-Year Engagement, Looper, Salmon Fishing in the Yemen (for which she earned a Golden Globe nod), and Your Sister's Sister.

Joseph Gordon-Levitt further solidified his position as one of the most exciting actors of our time with turns in The Dark Knight Rises, Lincoln, Looper, and Premium Rush.

Finally, Joss Whedon, who brought us one of the most creative horror films in a long time, The Cabin in the Woods, and stuck the landing for one of the most ambitious franchise films ever made, The Avengers.
Those are the people who helped make 2012 such a great year.
But what were the worst films of the year?
The Worst:
Before I count down the best of the year, let's take a look at a few of the worst.
Poor Taylor Kitsch.

I can't remember the last time such an incredibly talented actor's career was squandered so quickly.

Kitsch had the opposite year that Channing Tatum had, thanks to Oliver Stone's mediocre Savages, the terrible idea that was Battleship, and this film, the first to position Kitsch as a star.

The problem with John Carter, however, isn't Kitsch.

Many groused over the familiarity of the material, but I found the film's special effects gave me The Phantom Menace flashbacks and the script poorly juggles conflicts between three races of characters, making the plot nearly incomprehensible, especially for a family action film. This is what happens when you take a classic piece of literature and turn it into an effects-heavy action film with broad appeal: nobody is interested and it becomes the year's biggest flop.

Let's not forget, this was also the live-action debut of Andrew Stanton, director of 2008's Wall-E. All of this combined made John Carter one huge disappointment.
There was a lot of hype surrounding the release of The Hunger Games.

After the successes of Harry Potter and Twilight, other franchises based on youth-targeted novels, studios were clamoring for another hit franchise-starter.

The film was considered controversial.

The fans of Suzanne Collins' teen novel kept expectations high.

As a result, the film was a box office success.

Critics praised the filmmaking and Jennifer Lawrence's performance.

While, I agree, Lawrence is once again awesome in a role very similar to her powerhouse performance in Winter's Bone two years ago, nearly everything else after the film's first hour was frustratingly poor.

Featuring cowardly shaky-cam that cheats the audience of the subject matter, manipulative plot elements, and an unbelievably simple-minded focus The Hunger Games fell far short of what it could've been – and has been in other, superior material. I understand the next four films take a 'Star Wars Rebel Alliance'-like turn.

Sounds like the odds are ever in the favor of derivative entertainment.
3. Wanderlust
As I mentioned before, the year was full of promising, yet mediocre comedies.

Wanderlust was perhaps the most disappointing of all. Directed by David Wain of the cult hit Wet Hot American Summer and Role Models and featuring a hugely talented comedic cast (Jennifer Aniston, Paul Rudd, Alan Alda, Joe Lo Truglio, Malin Akerman, and Lauren Ambrose, to name a few), Wanderlust seemed positioned to be the no-brainer hit comedy of the year.

It ended up just being brainless, obvious, and barely funny at all.
2. The Lorax
Do you remember The Cat in the Hat?

That live-action adaptation starring Mike Myers that was so obnoxious and insufferable that the Geissel Estate swore never to allow another live-action adaptation of Dr. Seuss's work to be made again.

I wouldn't blame them if, after seeing The Lorax, they ceased any future film adaptations of Seuss's work from ever being made again.

It's that bad.

What was once a wonderful and whimsical tale for kids with an environmental subtext is twisted into an A.D.D.-infected, noisy, and hypocritical abomination.

I was embarrassed to expose my kid to this cheap bauble of a film.
The only movie worse than #2 was this insanely exhausting teen horror flick.

I know director Joseph Kahn was aiming for the be-all-end-all horror film for the Twitter generation, a film that he claims nobody else could understand.

But come on!

Not only does its manic energy and visual style grow tiresome, but it makes absolutely no sense!

You might not expect much from the maker of 2004's Torque, but if you listen to Kahn in interviews you see he's is a man of creative ambition, which is why there are moments of comedic brilliance here and what makes this little-seen film so painful and a chore.
Dishonorable mentions: Madagascar 3: Europe's Most Wanted, The Amazing Spider-Man, The Five-Year Engagement, Silent House.
The Best:
These days, so many of us are surrounded by so much crap in life that we don't know what to do with all that negative energy. If we let it out, society might reject or judge us. The only answer seems to be to look for the silver lining.

David O. Russell does a great job of depicting that delicate challenge made even more difficult when living with a disease like bipolar disorder, as Bradley Cooper's character does.

Jennifer Lawrence completes her journey to stardom as the perfect foil to Cooper's blindly determined protagonist, a recent widow who has channeled her grief into inter-office sexual flings and is attracted by his no-bullshit matter-of-factness.

Silver Linings Playbook is a love story wrapped in a film about moving on, starting over, and familial loyalty. It is one of the best love stories of the year.
9. Looper
Imagine if your job required you to kill your future self immediately upon sight.

That'd be bad enough.

Imagine if you did it could mean the annihilation of thousands of people in the future.

Such is the plight that Joseph Gordon-Levitt is faced with in this tightly-scripted sci-fi thriller by writer/director Rian Johnson (The Brothers Bloom).

Bruce Willis, as JGL's older self, brings his usual seasoned blue-collar weariness, which is perfect for an action-heavy role that serves both as a target and an agent for change.

Looper tugs its audience in different directions, testing how far they'll go along with the central character.

Emily Blunt is fantastic as the guardian of a child whose life is in danger.

Looper is a crackerjack film and quite close to being the best action film of the year.
8. Safety Not Guaranteed
A man puts an ad in the paper seeking a time-traveling companion.

A woman working for a paper that wants to do a piece on him befriends him.

What transpires is one of the cleverest and most surprising indie rom-coms of the year.

This film just creeps up on you and gets under your skin and it's mostly because of Mark Duplass and Aubrey Plaza.

Plaza finally brings more to a role than just her usual dry cynicism: she's actually empathetic and kind of sweet here.

Duplass, as a man who has a very specific reason for wanting to relive the past, is more than just some socially-awkward kook.

There's a fragility to his performance that makes him more than just a one-note character.

Made by first-time director, Colin Trevorrow, Safety Not Guaranteed is one of the most impressive debuts in recent memory and the freshest, most unique romantic comedy you'll see all year.
7. Life of Pi
Last year, Martin Scorsese further pushed the envelope of 3D and helped prove its legitimacy as a tool for effective storytelling.

This year, Ang Lee follows-up with this fable that features a simple premise: man lost at sea shares a boat with a tiger.

What Life of Pi actually reveals itself to be is a gorgeous spectacle of survival where both the hero's and audience's faith and humanity are questioned.

It will knock you out during its final moments, turning on its head everything you thought you knew not just about the story, but perhaps even about yourself.

It is one of the most substantial spectacles of 2012.
6. Skyfall
Who would think the director of domestic dramas like American Beauty and Revolutionary Road would create one of the best Bond films of the franchise's 50-year history?

Like Skyfall, Die Another Day (the 20th Bond film), tried to celebrate the franchise's history.

Unlike that film, Skyfall succeeds at doing it well by avoiding over-the-top action and little easter eggs sprinkled throughout.

Instead Sam Mendes and screenwriters Neal Purvis, Robert Wade, and John Logan have written a story that ends with Bond finally becoming the agent we know and love, complete with all those great tropes that make a Bond film so irresistible.

I won't spoil any of the details, suffice it to say this isn't just any disposable spy film.

This is a film that questions whether the idea of Bond is still relevant today.

Daniel Craig's Bond is an agent of today rather than yesteryear.

Gone are the chauvinistic tendencies, the unquestionable heroics.

This Bond is a flawed man with a tragic past (though typical).

This Bond is looking forward and I'm looking forward to seeing what he'll do next.
5. Argo
Ben Affleck has proven with Gone Baby Gone and The Town that he knows how to make a taut crime film.

With Argo, he proves he can direct a crowd-pleasing period piece thriller.

Argo is an unusual movie compared to what he's done before, quite difficult to categorize, really.

It's part Hollywood satire, part rescue mission, part period piece, part political thriller – all of which make up one of the most enjoyable and suspenseful films of the year.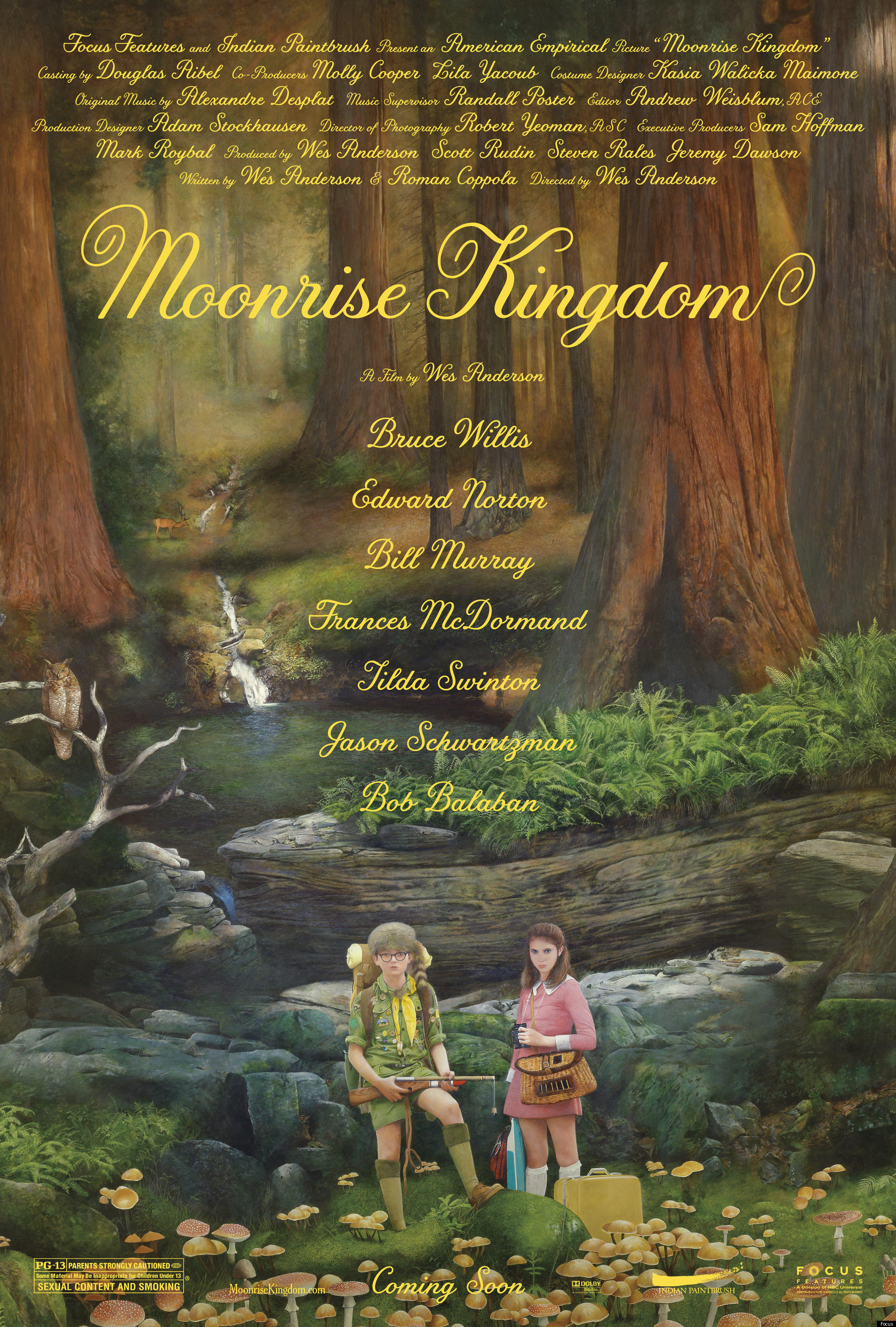 4. Moonrise Kingdom
Few films in 2012 were crafted with such deliberate attention to detail as Moonrise Kingdom.

Every shot is framed so purposely, when the camera moves, it is with reason in this delightful film that's partially a coming-of-age story, partially about the disappointment adults can become for their children, and partially a deconstruction of the family unit.

For the first time, Wes Anderson is in complete control of his craft and avoids making a single mistake or false note.

This is the best film of his career.
3. Django Unchained
Quentin Tarantino.

That name is now synonymous for a particular type of film.

Whether it's a crime film, a revenge flick, a grindhouse film, or a period piece, Tarantino's films are always stylistic and give the art of filmmaking a big, wet kiss (in Inglorious Basterds, film actually saved the world!).

Tarantino manages to accomplish this every time without being derivative or cliché – and is always creative, resulting in some of the best American films of the last 20 years.

Django Unchained is no exception.

While it is a tiny step backward from his masterpiece, Inglorious Basterds, a film that may end up being the peak of his career, Django is a brilliant feat of horrific period accuracy (with only a couple minor anachronisms), clever dialogue, charismatic performances, and bloody vengeance.

Christoph Waltz should be a household name, because he is a magnificent actor of immense talent; Inglorious Basterds and Django prove this.

The end of 2012 saw the release of a lot of films that were nearly three hours long.

Django Unchained was the most fun, wild ride – and the one that felt the shortest.
Spielberg has a thing for 19

th

and 20

th

Century period pieces.

Some are successes (Schindler's List, Saving Private Ryan, Empire of the Sun).

Some are not (War Horse, Amistad, 1941).

You can count Lincoln in the former category.

Is it a perfect film?

No, but it goes to great pains to show us that our 16

th

President wasn't perfect either.

He was a great orator and a thoughtful political strategist.

He was also willing to do whatever it took to get the 13

th

Amendment passed by Congress.

Spielberg's Lincoln is stunning in its ability to turn political discourse into gripping cinema.

Credit must go to Daniel Day-Lewis and Tommy Lee Jones, two stand-outs in an incredible Who's Who cast.

Jones was a perfect fit for the sharp-tongued Thaddeus Stevens, but it's Day-Lewis, once again, who turns in the performance of the year.

He so absolutely transforms himself into Lincoln that you'd believe you're watching the real deal.

Lincoln shows us even those historical moments that pass social (and economic) reform may have been the right thing, but they didn't occur without a fight; it wasn't so obviously necessary to everyone.

We can look at issues today and realize that some things never change, even when change is necessary.

That is why, despite its laughably frequent oration scenes, Lincoln is another film Spielberg can be proud of.
1. Beasts of the Southern Wild
Now, let me remind you, there's a good possibility that this could end up falling to my #2 spot.

But until I see Zero Dark Thirty, that remains to be seen.

That said, there isn't a film in 2012 that offered so much to chew on with so little.

Directed by first-timer Behn Zeitlin, Beasts of the Southern Wild is a low-budget film filled with themes on self-reliance, pride, survival, and the universality of all living things.

All of this is conveyed through the eyes of a child, played by first-timer Quvenzhane Wallis.

Beasts is a remarkable debut film, with some remarkable performances and one of the year's best scores.

It is the most exceptional film of the year and is worth seeking out.
Honorable mentions: Cabin in the Woods, Wreck-It Ralph, The Avengers, Bernie, 21 Jump Street, The Dark Knight Rises, and Les Miserables.
Those are my picks for the best and worst of 2012. What are yours? Feel free to comment below or on our Facebook page.